CARINA PRIGMORE | Touch of Light | acrylic on canvas | 61cm x 89cm
Grounded in connection with nature, Carina Prigmore's instinctive approach to landscape sets her apart. I've often watched people in the gallery gravitate towards the inner stillness of her paintings. As they journey into the landscape, their expressions mirror recognition of the unique Cairngorm light, memories of place that imbue calmness and serenity. Carina's work expresses what so many of us seek outdoors: a reconnection with nature and the reassurance of balance in natural cycles of renewal. The holistic experience and physical sensations of being in the landscape are communicated in subtle hues, emotional shifts of temperature and mark making. When immersed in the landscape, we can simply be. It is an experience of freedom and connectivity unlike any other.
Born in Sweden (1973), Carina studied Art and Design at the University of Wales, Cardiff and Conservation Biology at Aberdeen University. The disciplines of painting and science converge in heightened awareness. Observation of the natural world and the effect of humanity upon it is often communicated in statistics, but perhaps a stronger call to protect and restore ecosystems is to be found in art. Carina's paintings are quietly powerful in that respect, bringing us face-to-face with our felt sense of landscape. When faced with the still core of nature and ourselves, deeper understandings can emerge and change the way we move through the world. True to her Northern European roots, Carina's love of landscape is about the ways that nature and culture enable inner growth. The ways we are nurtured by direct contact with the natural world becomes richly apparent when we stop and pause in front of a Prigmore painting.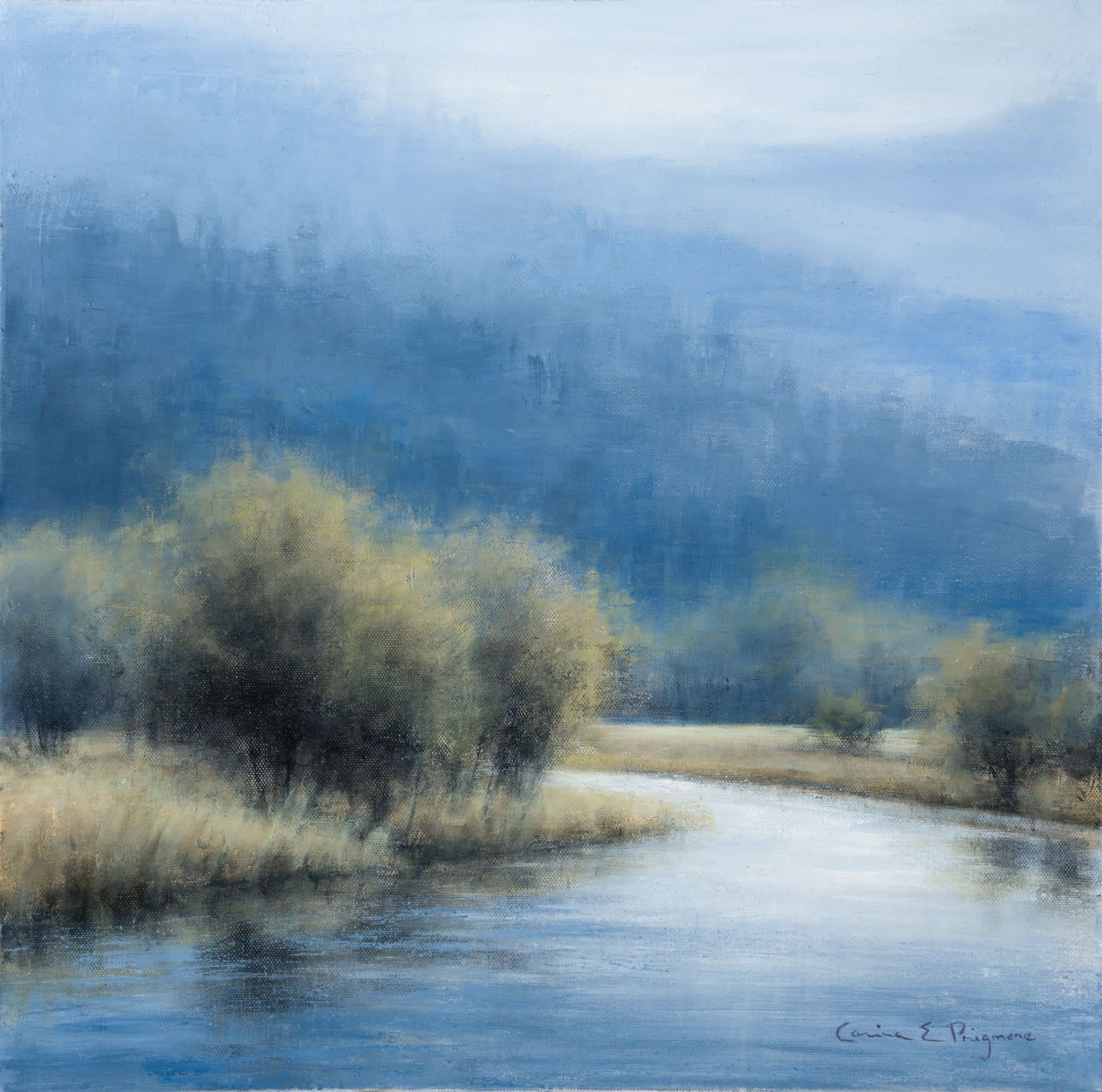 CARINA PRIGMORE | Autumn River | acrylic on canvas | 61cm x 64cm
Carina's canvases are spaces where we can breathe, alive in the melt of ice and paint splatter. We witness the changing seasons, the illumination of brush strokes and muted light, cast between realism and abstraction. Recently Carina established a new studio, allowing work of expanded scale and further experimentation with spontaneous, layered marks. Inspired by the atmospheric, complex surface treatment of Rebecca Crowell's abstract paintings and the looser oil paintings of Swedish Ornithological artist Lars Johsson, Carina Prigmore is an artist who consistently challenges herself. The energy of working on the floor in a gestural way works in brilliant counterpoint with the unified peace of her compositions. What Vilhelm Hammershøi is to interiors, Prigmore is to landscape, inviting contemplation at the still centre of life.