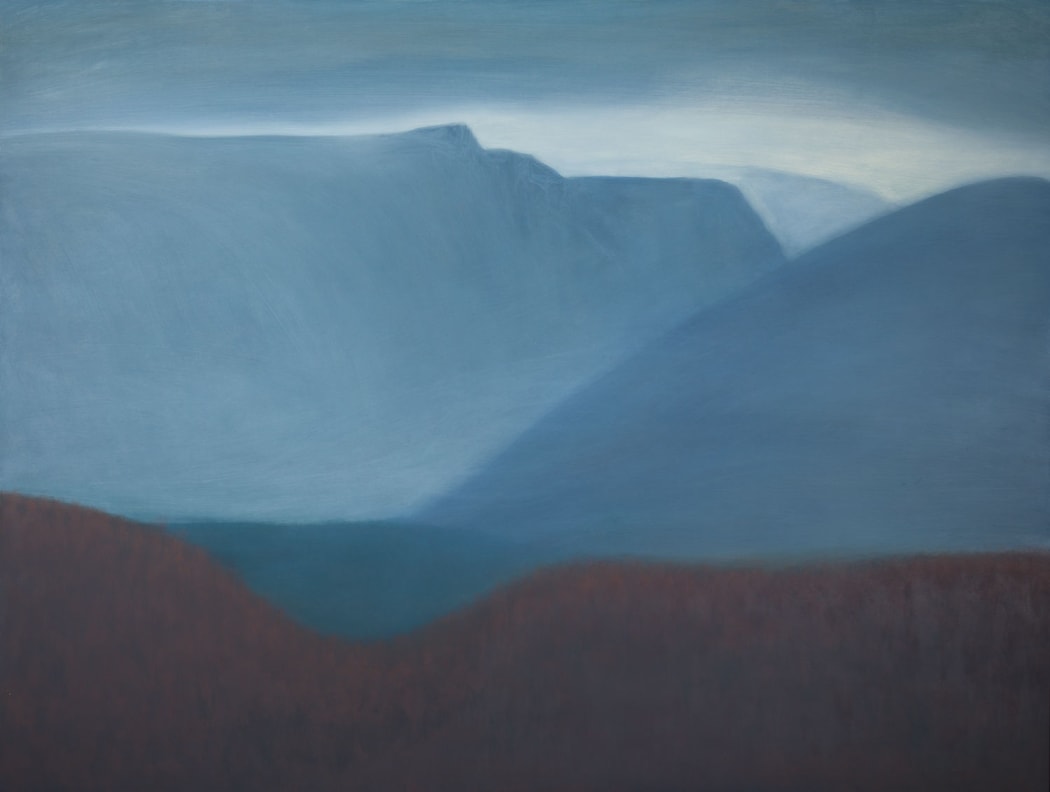 JANE MACNEILL | Mountain Pass in Red and Blue (Lairig Ghru) | oil on board |117cm x 152cm | 2020
'Experiences, much more than instruction, are a seeing with the inner eye – finding a channel to our essential inner life, a door to our deepest understanding wherein we have the capacity for universal response.' Lawren Harris
The profound stillness of Jane MacNeill's landscapes offer the viewer space to breathe and reflect. Throughout her career, MacNeill has distilled her studio practice, creating work which expresses the sense of calm and connectivity we feel in communion with nature.
The Zen-like simplicity of her compositions, close tonality, subtle palette and richly layered paint handling communicates an attitude of compassion and reverence. This meditative quality is rooted in her native Cairngorms, where the ancient mountains are an enduring source of strength and renewal. It is also integral to the discipline of painting, a circular exchange of energy between the subject, artist and viewer which awakens consciousness and alters perception.
From her earliest figurative work, iconic depictions of birds, animals and insects to her most recent landscapes, MacNeill's approach to her subjects has remained consistently focussed on the 'essential inner life' and our 'capacity for universal response', grounded in the natural world. MacNeill brings home the universal need for openness, to empty oneself in order to be filled and truly nurtured. Walking the hills of the Scottish Highlands and Islands, MacNeill's instinctive response is deeply personal and expansive. Memories, folklore and myth entwine with the physical experience of landscape, inviting contemplation of human scale and aspirations. Striving to reduce noise, relax the mind and enter a different state of awareness, her paintings reveal the light from beneath and within mountains, rendered with the same exquisite care as a haloed icon.
JANE MACNEILL | Innocent Magpie | oil and gold leaf on board | 2015
In traditional icon painting gold leaf and ground natural minerals reflect light in the eye and soul of the beholder, completing a circle. It is an intimate exchange of transparency and luminosity, dissolving the ego, becoming part of something greater than oneself. Early Twentieth Century Canadian artists Lawren Harris and Emily Carr shared an understanding of this dissolve in relation to landscape, seeking spirituality in nature as their true North. Harris' movement into abstraction, paring down the landscape in light, form and tone, defining his own language in the process, has a kinship with MacNeill's artistic trajectory. It is a path walked in view of the sacred, like Japanese ukiyo-e artist Hokusai's forty-six Views of Mount Fuji, returning to an ever-fixed mark in the landscape and within ourselves.
JANE MACNEILL | Dark Mountain With Small Cloud Moving (Carn Eilrig) | oil on board | 116cm x 93cm | 2020
MacNeill's work has a Geopoetic compass, using all her senses to become more attuned to the world. In the context of the Scottish Highlands and Islands, her paintings dig deep beneath the surface of a landscape too often defined (inaccurately) as scenery. In Mountain Pass in Red and Blue (Lairg Ghru) (oil on board, 117cm x 152cm) the mind's eye is drawn resoundingly towards breaking light in the distance. MacNeill reaches into that contemplative space in the tonal progression of interlocking forms and the emotional temperature, from warm red earth in the foreground into cool blue, invoking the mindful element of air. The intention isn't conquering the mountain, but feeling our way towards an understanding of the entire landscape and the peace that comes from recognising our place within it. The beauty of MacNeill's landscapes comes from that extended reach, into and beyond the mountain. In the same way that Scots Gaelic language encompasses highly nuanced understanding of the entire cultural ecology, MacNeill's distinctive visual language is a natural outgrowth of her innate sensitivity and deep empathy for land, people and memory. Her layered approach to the painted surface, often involving finely ground excavations, reveal what lies beneath the mountains, forests and lochs. In Dark Mountain With Small Cloud Moving (Carn Eilrig) (oil on board, 116cm x 93cm) the unity of trees, sheltering in the protective shadow of the mountain, create a feeling of continuity and calm. This gift of a pause embraces solace in the landscape and captures in elegant counterpoint, the minute tilt of movement in a small cloud. It is these awakening moments, when we stop to notice them, that sustain and enrich our lives. Our felt sense of landscape is pivotal in how we move through the world and impact the environment. In this way, MacNeill's Carn Eilrig becomes the whole world. In the still blaze of Red Birches (oil on board, 116cm x 93cm) or the exhalation of Dusk on the Grey Mountain (Beinn Laith Mhor a' Ghiubhais Li) (oil on board, 44.5cm x 48.5cm) a strong new voice emerges from a silent path.
JANE MACNEILL | Red Birches | oil on board | 116cm x 93cm | 2020