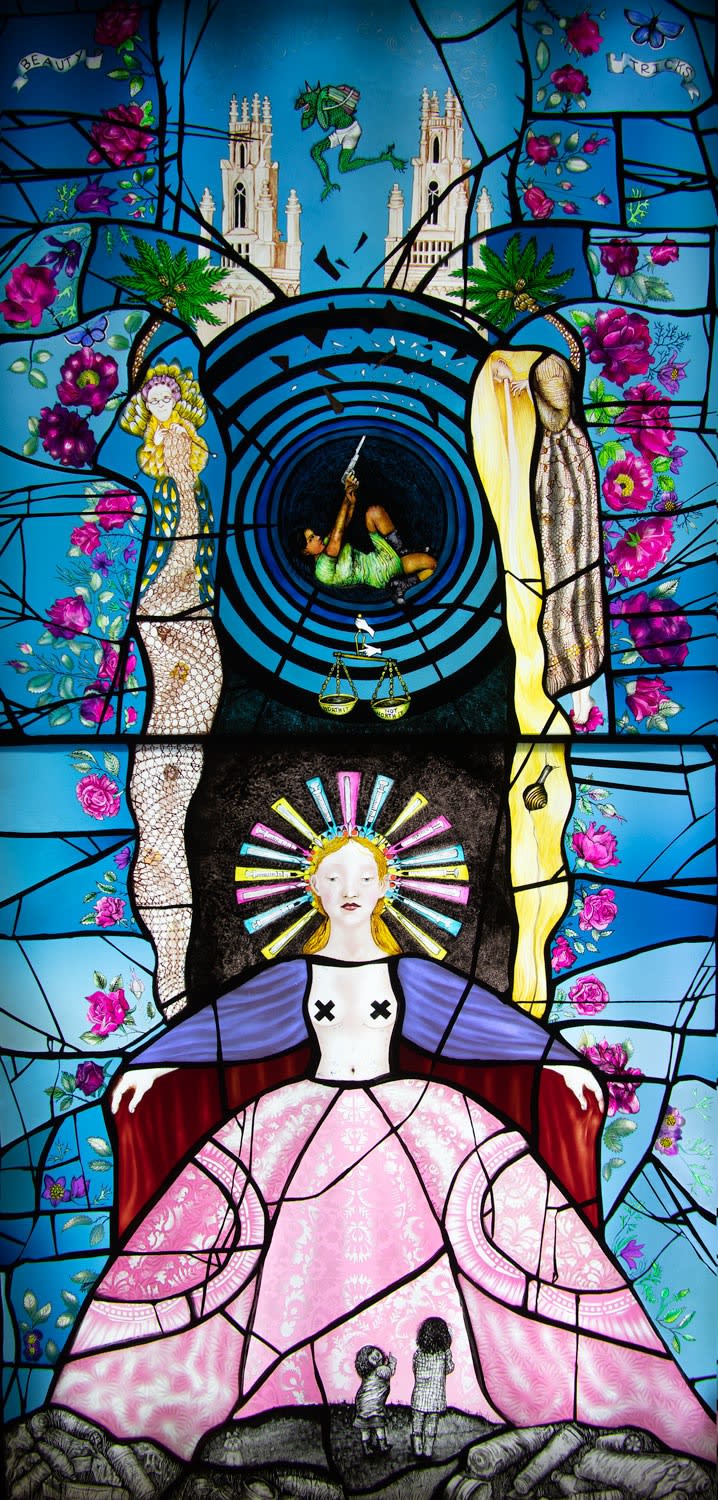 The dynamics of light, line and colour have a beauty all of their own in the dazzling art of stained glass. With their architectural and spiritual orientation towards heaven, the great cathedrals of medieval Europe are shining examples of visual storytelling. Moral lessons and divine illuminations were visible to all as matters of conscience. The fiery material in these medieval windows of the soul transmit light as a divine presence, opposing darkness. Their iconic function was affirmation of belief and reinforcement of authority through awe. The divine beauty in Pinkie Maclure's art is in taking this tradition of seeing and subverting it, presenting the viewer not with absolute truths, but eternal questions and challenging contemporary subjects.
Like the radical craft and social commentary in Grayson Perry's work, which has transformed perception of ceramics beyond the functional or decorative, Maclure elevates stained glass to a whole new level. The refracted light of thought and design in her provocative work is empowering, triggering the viewer's imagination and grappling with taboo subjects in unexpected ways. Turning the viewer's vision inwards is an essential part of this agency. Using ancient methods and experimenting with sandblasting, layering, engraving, glass beads, oil paints and inks, Maclure's unique style reclaims the Feminine as a source of creative power. In Beauty Tricks, narratives woven in glass reframe ideas of beauty and confront the viewer with their own aspirations and demons of self-worth. In a fatally narcissistic world, Beauty Tricks is a double edged sword that seduces and interrogates on multiple levels.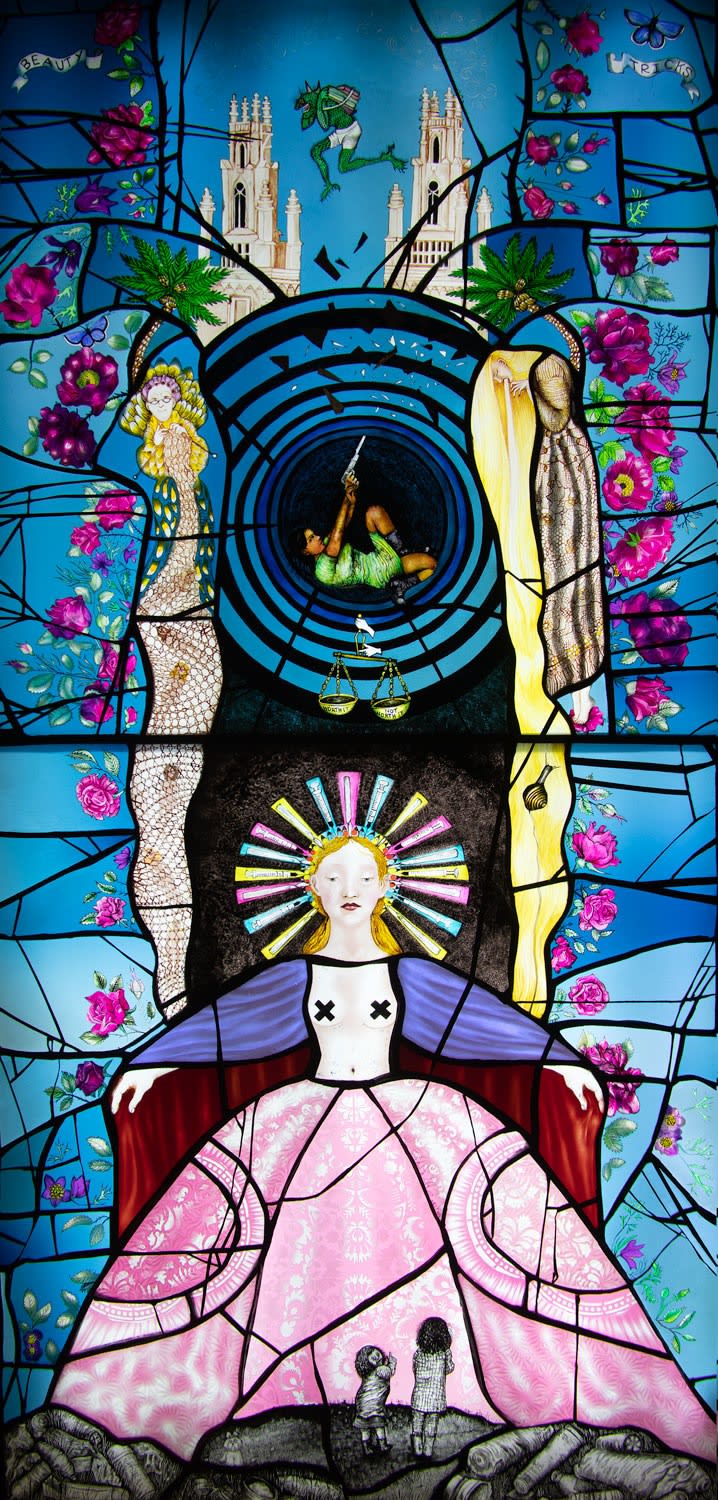 From the smallest details to the grand design, we're confronted by the contradictory nature of human desire. Maclure's work challenges inherited self-loathing and a status quo of unattainable perfection. At the base of the matter is a wasteland rendered in black and white. Finely etched brush marks define discarded bottles and tubes with labels of promise like 'natural' 'fresh' and 'eternity'. Linked to the cathedral spires above, the tower-like aspiration is founded on waste. Two small girls inhabit this ground of next generation, one pointing upwards towards the central female figure, a golden-haired deity/ goddess, with a tracery of nip/ tuck markings on her torso. A halo of scalpels and syringes glow in candy-like colours around her head, like a saintly fairground attraction. Her voluminous skirt reads like a mountain before the two children, adorned with heritage flock-like patterns.
From a distance, Maclure's luminous panel feels like a magical fairy tale with its dominant palette of pink and blue, accented with sunny yellow and fertile green. The goddess figure resembles a Pre-Raphaelite face of idealised beauty, part of the history and craft of 19th Century stained glass, inspired by high Gothic. However, any reference to the Pre- Raphaelite brotherhood and their contentious ideals of feminine beauty quickly evaporate in the presence of Maclure's female protagonists. She does something truly radical in Beauty Tricks, owning and subverting the internal female gaze. Anything less would be an abdication of responsibility, because the way that ideal feminine beauty is rigorously perpetuated every day, in bathroom mirrors and on smartphone screens, is an ironic twist of hand held power and oppression. We are now at a point in history where social media has established a new body politic. The self-reflection of Maclure's stained glass is a brilliant counterfoil for received ideas and assumptions about our own worth. Characteristically, the panel is invested with its own power of self-determination, in the stories we construct for ourselves.
The intellect and vision in Maclure's work are in perfect union with its aesthetic qualities. Above the goddess's head floats scales of weighted judgement; 'worth it' or 'not worth it', echoing the advertising slogan of a well-known international beauty corporation. There is individual judgement in play, the Beauty Tricks of self-deception, together with the insistence of potential change in seeking and seeing the truth, however uncomfortable it may be. Personal and global concerns are entwined with palm trees alluding to the use of palm oil in the beauty industry, a devastating harvest for the planet fed by insatiable consumption. Our central deity is flanked on one side by a vomiting Rapunzel, inferring an eating disorder and on the other by a friendly granny knitting a net for floating barbie dolls. However, the feelings these figures engender, of vulnerability and inevitable worship at the foot of false ideas/ gods is shattered by the spirited presence of a teenage girl suspended at the centre of a vortex. Bracing herself against the circle like James Bond or Lara Croft, she's shooting the composition into positive and negative mirror shards. It's the truth and lie embodied by that material as an instrument of judgement, exploded with youthful exuberance.
The fractured lines that define the stained glass composition are part of its critical strength- a framework for exploring attributions of self-worth and belief. The triptych is flanked by trellises of roses, implying the potential for love and growth, though not without thorns. There's investment in craft and tradition, together with an ideological hammer to smash it with. This essential dynamism is the heart and soul of Maclure's art, crowned by a leaping cartoon demon of knowledge, described by the artist as a reference to 'Titivillus, a Spanish demon' seen in medieval glass, 'who carried a stack of books on his back. It was said that he toured the monasteries and homes of scribes to collect errors in the texts and store them in the sack to take them to hell, where they were recorded as evidence of Christian bad devotion.' Here ' he is jumping gleefully across the spires of Cambridge University, claiming knowledge and wisdom as his own, while women, oblivious, obsess over their appearances.' Drawing on over 15 years' experience working in stained glass construction and repair, Maclure enjoys 'dropping these ancient images into a 21st century context.' Her reclamation of traditional skills like painting and firing, serving the narrative, is a progressive shift away from decorative abstraction in contemporary stained glass.
In a world of appearances, Maclure holds up a mirror to shared histories and beliefs, bridging concept and craft with radiant joy. What resonates throughout her work is the celebration of unbridled creativity and inquiry that set us free. These attributes, often demonised in times of political and social unrest, are what make us human. Maclure's vibrant imagination and humour transmit light in this Dark Age, reaffirming the importance of storytelling in questioning and knowing who we are.