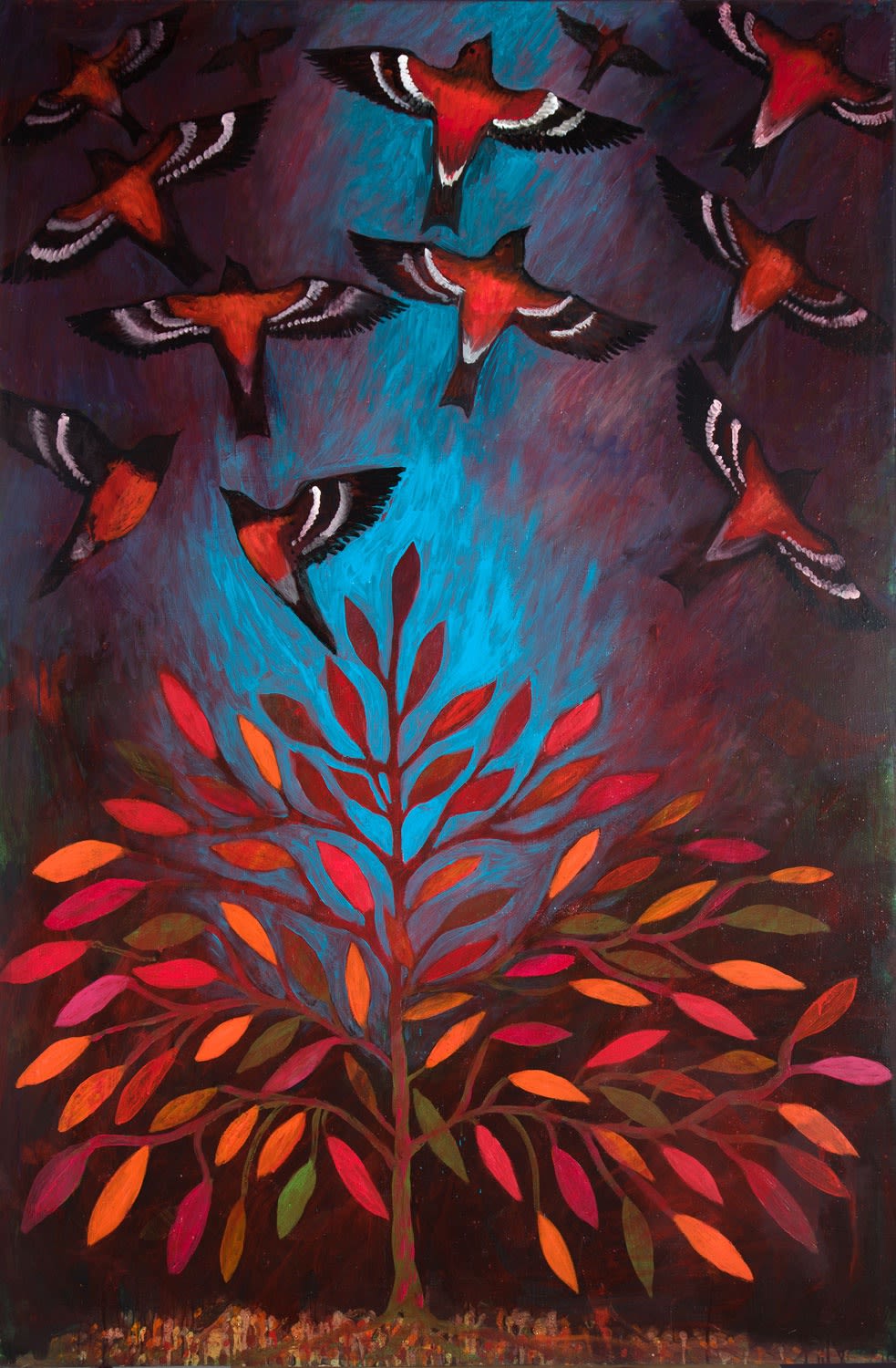 'The intense darkness of a Shetland winter seems to magnify visually and emotionally the short glimpse of light we get. The sun sits low on the horizon, casting a powerful sidelight over everything. A few times a year the northern lights dance their way through the midnight sky, making one sit in absolute awe in the knowledge of something more powerful than ourselves.' Paul Bloomer
Paul Bloomer is a prolific artist, a master printmaker in etching and woodcut, responding to the world around him in vivid charcoal drawings, oils and watercolours. In this latest suite of vibrant, large-scale oil paintings, the affirmation of colour and light are undeniable. Colour is a life force of joyous intensity, with a vibration akin to music in every hue and brushstroke. Bloomer's paintings are composed intuitively, responding to the awe inspiring, restorative powers of nature. All Bloomer's work, in monochrome or colour, strives towards light and connectivity. If ever there was a time for this work to be celebrated, it is now.
Working with colour is essentially rooted in process. Bloomer makes his own paint, pure pigment ground in cold pressed linseed oil, achieving 'a deeper understanding of the personality of each pigment,' the quality of 'translucency' in vermillion or the 'internal light' of cobalt turquoise. His approach to colour as an expressive element is informed by the glowing spirituality of 14th Century Sienese artists Simone Martini, Duccio, and the Lorenzetti brothers, Emil Nolde's incandescent seascapes and the pure emotional resonance of Colourfield Abstract Expressionist Mark Rothko. The holistic vibration of living colour reaches deep within us, tapping into an ancestry of seeing and acknowledging that we are part of nature.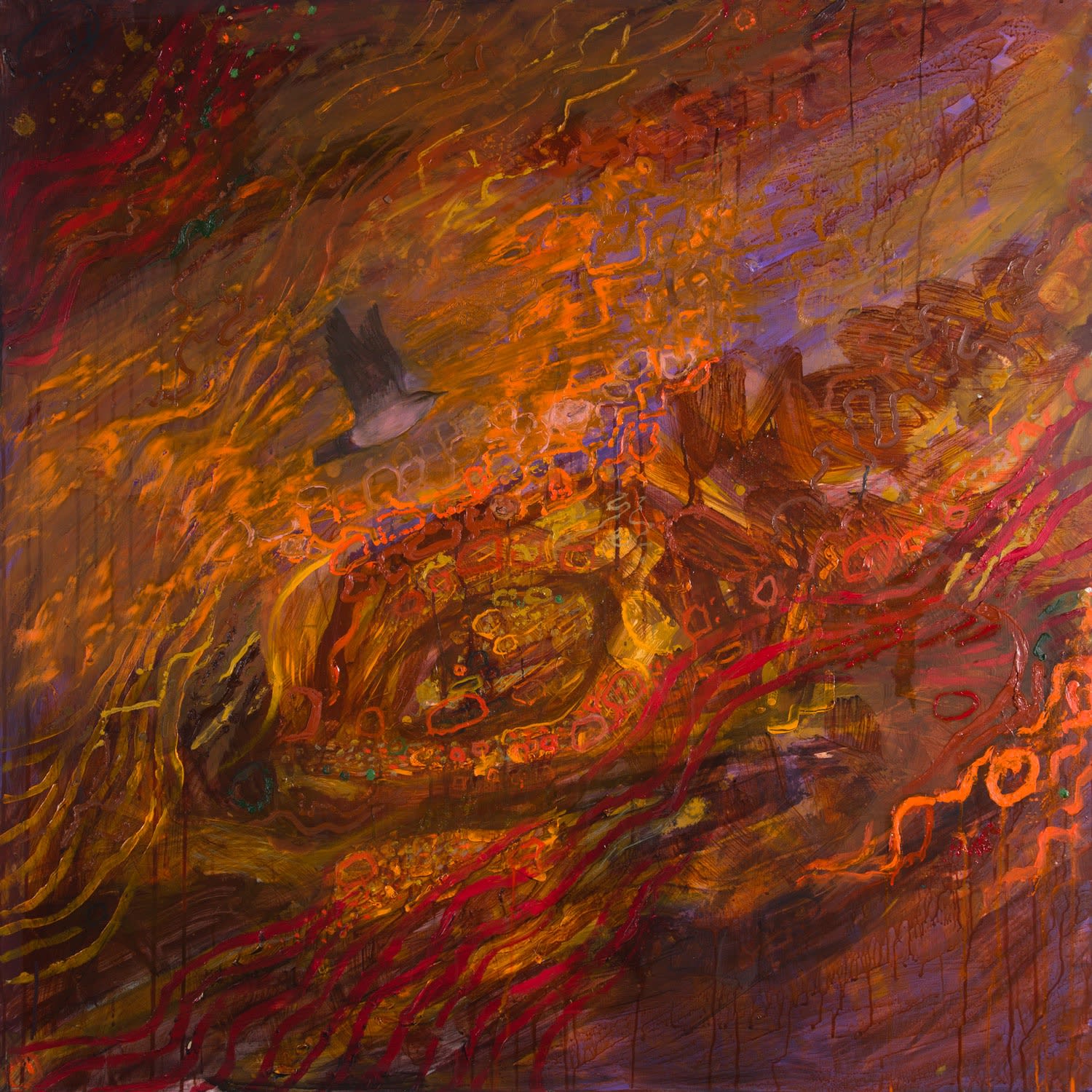 Paul Bloomer | Layers of Time | oil on board | 121.9 x 121.9cm
In Layers of Time (oil on board, 121.9 x 121.9cm), Bloomer explores cumulative marks in ancient layers of sandstone and embedded pebbles. Strength is drawn from 'a place where wheaters nest' and an expanded imaginative space is created where we can collectively see anew. Looking at this painting I'm reminded of Aboriginal songlines, a way of experiencing and navigating the landscape, intimately connected to the entirety of existence. In Bloomer's Song of the Skylark (oil on canvas, 122 x 122cm) colour and mark positively sing, in recognition of what indigenous cultures throughout the world have always known. Making this compassion and understanding visible again is vital in where we now find ourselves as a species.
Paul Bloomer | Black Rock | oil on board | 152 x 122cm
Black Rock (oil on board, 152 x 122cm) feels like the human psyche unearthed, an area of volcanic rock on Shetland, invoking the life and energy of places that inspire hope within us. The luminous flow of water bisects the composition, separating the living, brown plumed bird from a shadow self. Life and death exist holistically in nature as part of a continuum. Similarly, in Autumn Bramblings (oil on board, 182 x 122 cm) the upward trajectory of flight and colour communicate an overwhelming sense of being alive. This enduring sense of hope is drawn out of courage; to examine the world in all its darkness and light, from Bloomer's critical Black Country works to his great song cycle etchings celebrating natural wonder. The striving for light that continues to define Paul Bloomer's career is now a collective imperative, seen in visionary colour and awakening consciousness.
Georgina Coburn